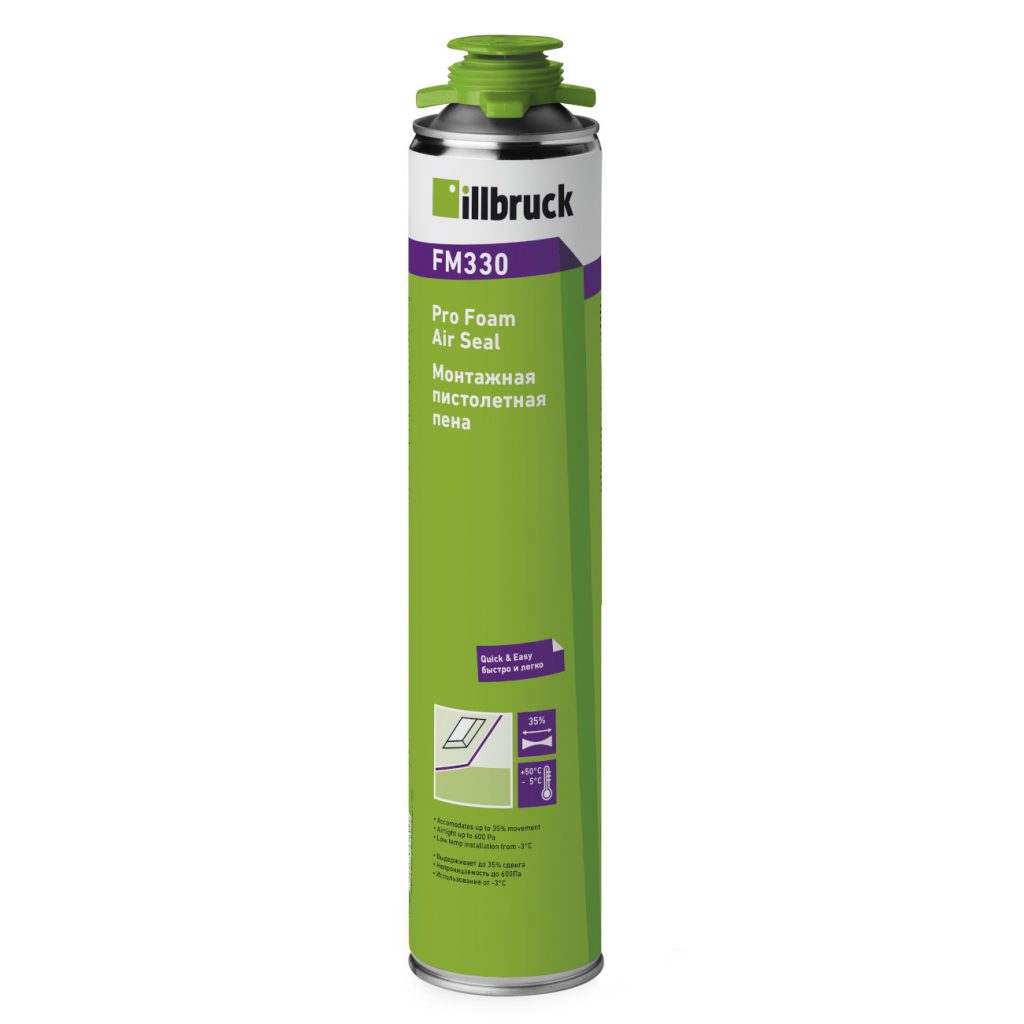 FM330 Pro Foam Air Seal
One part, rapid, moisture-curing expanding polyurethane foam which is gun applied and has excellent elasticity, air tightness and acoustic properties. Excellent adhesion to brick, block, stone, plaster and cementitious materials as well as wood, metal and a variety of plastics. The low post-expansion facilitates greater control during application.
FM330 is ideal for use as an air tight gap filler for general construction joints including where movement is expected to occur.
It is suitable for applications such as airtight window and door perimeter joint seals, sealing floor to wall and wall to ceiling joints and pipe & service penetrations.
Key benefits
A high performance PU foam with excellent acoustic and airtight performance
Airtight formulation – tested to EN 12114
Acoustic dampening – up to 63 dB joint insulation index
Elastic performance – up to 50% movement capability ensures integrity of the seal in the event of movement
Sub-zero formulation – can still be used at temperatures as low as -3°C
Low post-expansion facilitates more accurate application depth
Packaging
750 ml pressurised canister (12 per carton)
Technical data
Property
Test method
Result
Composition
Polyurethane Foam
Fire Classification
DIN 4102-1
B3
Yield
34 litres
Water Absorption
EN 1609
0.2 kg/m²
Density
LAB 015
15 – 25 kg/m3
Tack Free Time
FEICA TM 1014 esant 23°C ir 50% santykinei oro drėgmei
10 minutes
Cutting Time
FEICA TM 1005
45 minutes
Loading Time
24 hours
Air Tightness
EN 12114
< 0.1 m³/(h.m) esant ±1000 Pa
Movement Capability
FEICA TM 1013
50%
Compressive Strength (10%)
FEICA TM 1011
11 kPa
Elongation at Break
FEICA TM 1018
50%
Thermal Conductivity
EN 12667
36 mW/m.K
Maximum Acoustic Rating
EN ISO 140-1 : 2005-03
63 dB
Application Temperature
Canister: +5°C to +30°C
Ambient: -3°C to +35°C
Service Temperature
Short Term: -40°C to +130°C
Long Term: -40°C to +90°C
Storage
Store in shaded dry conditions between +10°C and +25°C. Store canisters upright. The product is contained in a pressurised container – observe storage instructions and do not apply heat.
Shelf Life
15 months when stored as recommended in original unopened containers.
Downloads